Jones & Cooper Home Inspection Services
Buyer's Inspection
Jones & Cooper Home Inspections abides by the Standard of Practice (SOP) upheld by ASHI. During the Buyer's Inspection, we check each safely accessible area of the building to determine its current condition and find any damage or defects that may sway your purchasing or repair decisions. The following areas of the home are included in the inspection service: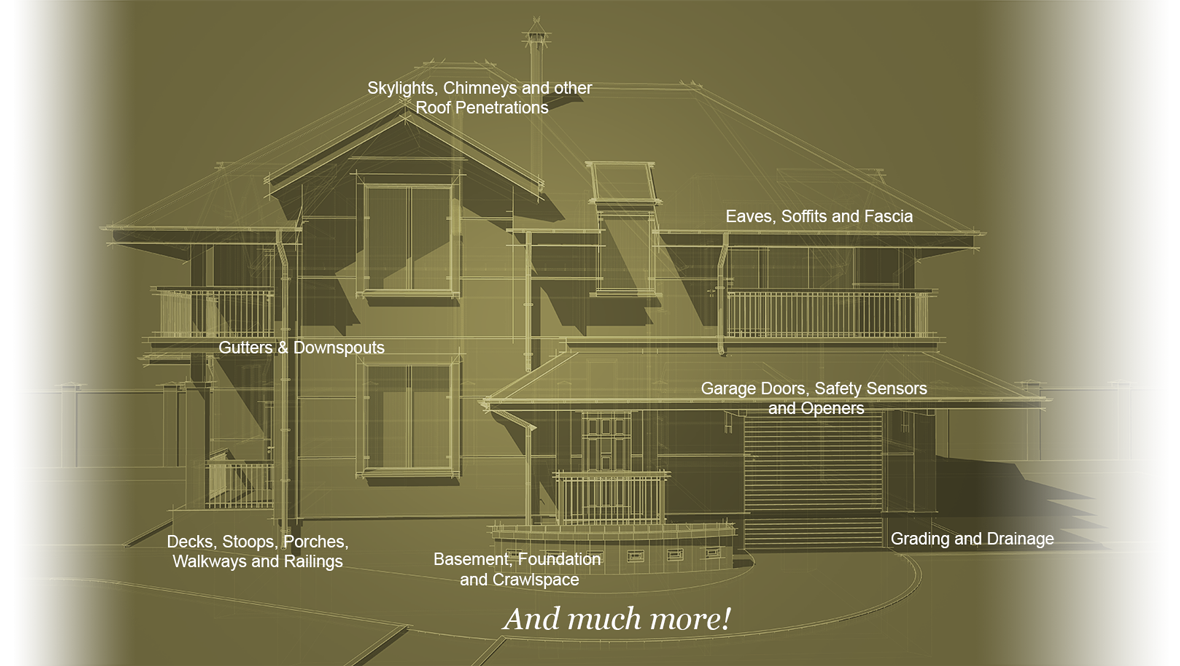 Gutters and downspouts
Skylights, chimneys, and other roof penetrations
Decks, stoops, porches, walkways, and railings
Eaves, soffits, and fascia
Grading and drainage
Basement, foundation, and crawlspace
Water penetration and foundation movement
Heating and cooling systems
Main water shut-off valves
Water heating system
Interior plumbing fixtures and faucets
Drainage sump pumps with accessible floats
Electrical service line and meter box
Main disconnect and service amperage
Electrical panels, breakers, and fuses
Grounding and bonding
GFCIs and AFCIs
Fireplace damper door and hearth
Insulation and ventilation
Garage doors, safety sensors, and openers
Detached buildings and garages
And much more!

Pre-Listing Inspection
Pre-Listing Inspections help sellers understand their home's strengths and weaknesses before putting it on the market. By being made aware of any damage in the home ahead of time, sellers can choose to make repairs before listing so that the home is more attractive to potential buyers.

New Construction Inspection
Oversights made during the building process aren't uncommon, but they should be addressed before the final walkthrough with the builder. We will thoroughly search the home for defects, giving the builder the time and opportunity to address these issues ahead of time.

Commercial Inspection
Buyers and owners of commercial properties deserve to know what they're getting into before agreeing to purchase. We will inspect a commercial property to determine its current condition and repair needs.

Third-Party Termite Inspection
To best accommodate our clients and their schedules, we will schedule Termite Inspection services with a local and professional termite inspector.

Re-Inspection
After a Buyer's Inspection has been completed and the CRL™ has been submitted, agreed upon repairs will be made to the property. A Re-Inspection of the home can give both buyer and seller the peace of mind of knowing that all agreements were met and that both parties are ready to move forward with their deal. Re-Inspections are always a good idea after the owners of the home have completed repairs. We will inspect the repairs requested and make sure they are satisfactory for a minimal fee.

11th Month Warranty Inspection
Many newly constructed homes are sold with a builder's warranty that covers constructional defects for one year. By having the home inspected during the 11th month, the new owner can be made aware of any defects that are covered and request repairs before their coverage ends.

Radon Testing
Radon is a toxic gas that can build up in the home and put everyone inside at risk. Exposure to the gas causes lung cancer, but it can't be seen, tasted, or smelled. The only way to ensure gas levels are below EPA standards is to test the property. We offer professional Radon Testing with high-quality equipment so that you can determine if your home is safe.
Call Jones & Cooper Home Inspections today to schedule an inspection with our team.
The greatest compliment you can give us is a referral.